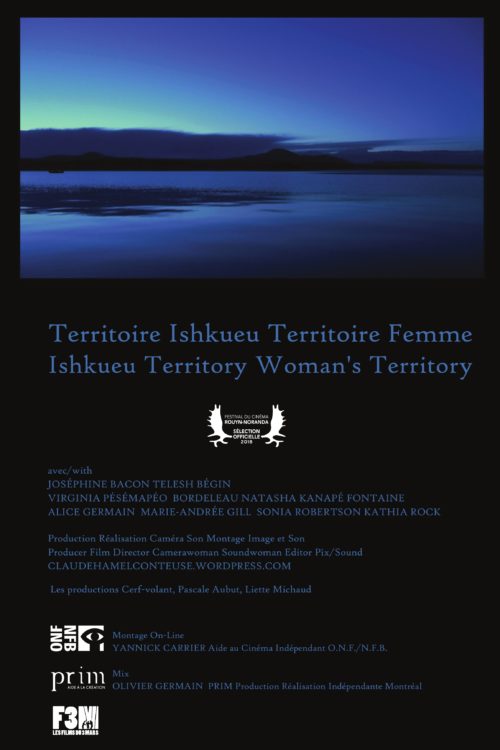 ISHKUEU TERRITORY WOMAN TERRITORY
62 min, documentary, Canada, 2018
Directed by
Claude Hamel
Produced by
Claude Hamel - Les productions de l'Amarante
Language
Français/innu with english subtitles
Film details
Synopsis
Eight native women storytellers, writers and poets performing live at the Atalukan Storytelling and Legends Festival in Mashtueiatsh (Pointe-Bleue), Quebec. Virginia Pésémapéo Bordeleau tells the genesis of her relations to the Bears; her paintings illuminate the documentary. Joséphine Bacon and Natasha Kanapé Fontaine give us their vision of the world while Marie-Andrée Gill delivers poems of brute force. Sonia Robertson, director of the festival, Alice Germain, adventure guide and Telesh Bégin, shaman, make us discover their territory while Kathia Rock offers beautiful chants in Innu and French.
Credits
Script and Direction : Claude Hamel
Image : Claude Hamel
Editing : Claude Hamel
Sound Design : Claude Hamel
Sound Mixing : Olivier Germain
Music : Kathia Rock
Sound recording : Claude Hamel
On-line image : Yannick Carrier
Production : Claude Hamel – Les productions de l'Amarante
With : Joséphine Bacon, Telesh Bégin, Virginia Pésémapéo Bordeleau, Natasha Kanapé Fontaine, Alice Germain, Marie-Andrée Gill, Sonia Robertson and Kathia Rock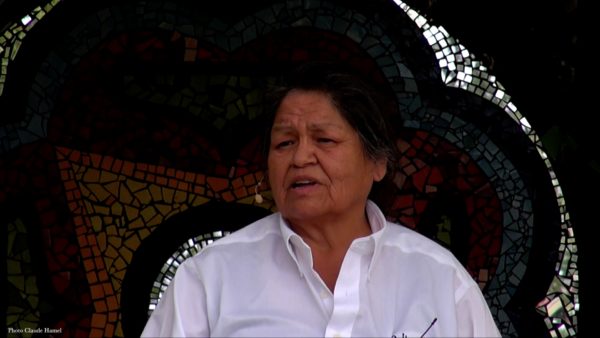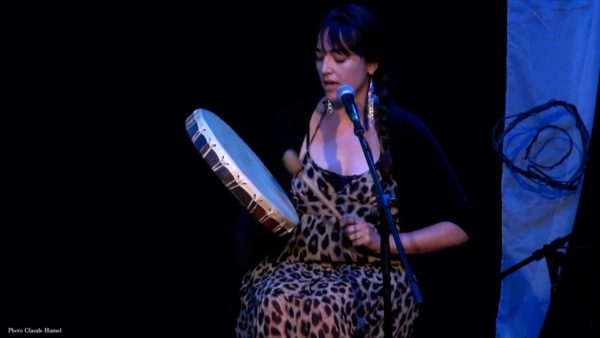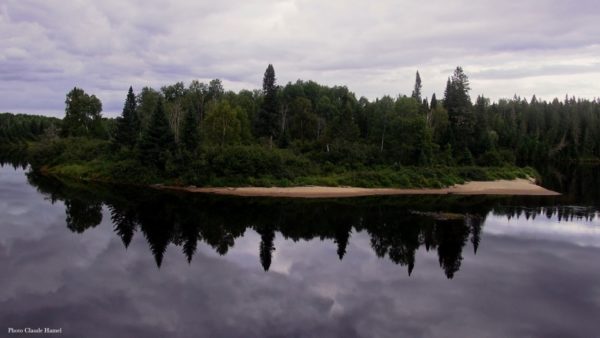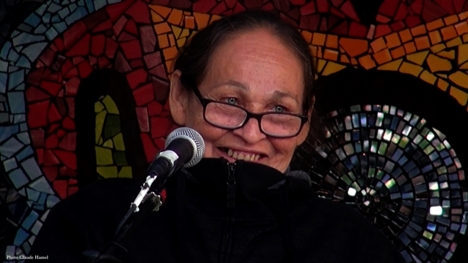 Director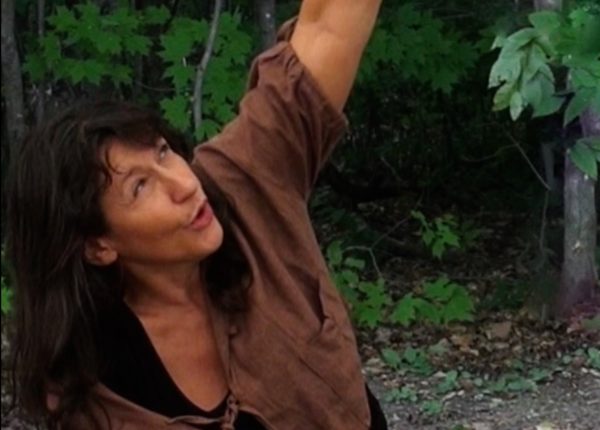 Claude Hamel
Claude Hamel was born in Abitibi and is a resident of the Eastern Townships since 2006. Initiated to the art of urban storytelling in 1981 with the Wondeur Brass collective, she added traditional tales to her practice when she was involved in Productions Coeur.com, a group of artists and therapists led by the Jungian author Guy Corneau. She then co-directed workshops, from 1998 to 2008, in France, Belgium, Egypt and Quebec. Claude has been writing, exploring and presenting since then traditional and historical storytelling pieces as well as life stories based on the personal experience that has led her from film sets to mythical places around the world. A soundwoman in documentary cinema from 1986 to 2012, Claude also directed three short films, and a 62 minutes documentary film in 2018, ISHKUEU TERRITORY WOMAN TERRITORY, selected in the Festival de Cinéma International en Abitibi-Témiscamingue . A documentary featuring 8 native women writers, storytellers, authors, she produced in collaboration with the Filmmaker Assistance Program of National Film Board of Canada and a PRIM grant for the mix. The director/storyteller/writer has signed eight coloring storytelling books she illustrated herself. In 2013, Claude Hamel signed the historical research and the artistic direction of A coeur Vaillant, a historic tour of the City of Contrecoeur , as well as the self-guided tour of Old Yellowknife. Claude Hamel was invited to do storytelling in 2014 at the International Contes et Musique Festival of the City of Fort-de-France in Martinique and pursue an international career. On the Quebec scene, she participate in Storytelling festival Festilou in Montreal, Storytelling Atalukan in Mashteuiatsh and to the Rendez-vous des Grandes Gueules de Trois Pistoles.
Filmography 
Ishkueu Territory Woman Territory, 62 minutes. Documentary, ACIC / NFB. PRIM. 2018
La petite sirène de Val-d'Or,  8 minutes, animation film about a tale by André Lemelin. 2017
Le pari du silence  Documentary, 4 min.18 2017
Habiter le paysage d'un regard habité. Poetic fiction 5 min.39 2016