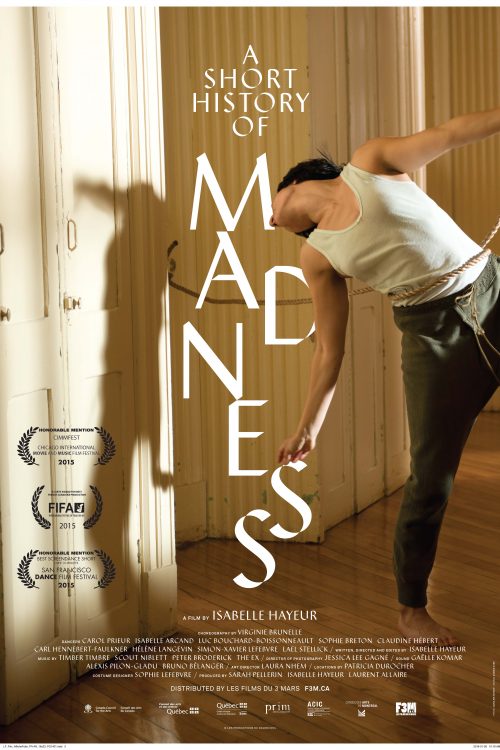 A SHORT HISTORY OF MADNESS
27 min, dance, Canada, Canada, 2014
Directed by
Hayeur, Isabelle
Produced by
Les Productions du Golem
Language
Silent film
Short description
Bringing together contemporary danse and architecture in a series of six pieces, A Short History Of Madness evokes the history of treatment of mental illness.
Film details
Synopsis
A Short History Of Madness is a contemporary dance film. Traveling through time in six architectural scenes, it touches on key moments in the treatment of mental illness in Quebec, from the end of the 19th century to today. The film introduces us to six mentally ill characters who are interpreted by dancers. It then goes on to follow a woman, Jacqueline, who ends up on the street after losing access to psychiatric care as part of the de-institutionalization process in the eighties.
Credits
Script, Direction, Editing : Isabelle Hayeur
Choreography : Virginie Brunelle
Director of Photography : Jessica Lee Gagné
Art director : Laura Nhem
Costume design : Sophie Lefèbvre
Sound : Gaëlle Komar
Sound design : Alexis Pilon-Gladu
Mixing : Bruno Bélanger
Music : Timber Timbre, Scout Niblett, The Ex & Tom Cora, Peter Broderick
Executive producer : Laurent Allaire
Production : Les Productions du Golem
Financial Partners
Conseil des arts du Canada
Conseil des arts et des lettres du Québec
SODEC
PRIM
ACIC
Conseil des arts de Montréal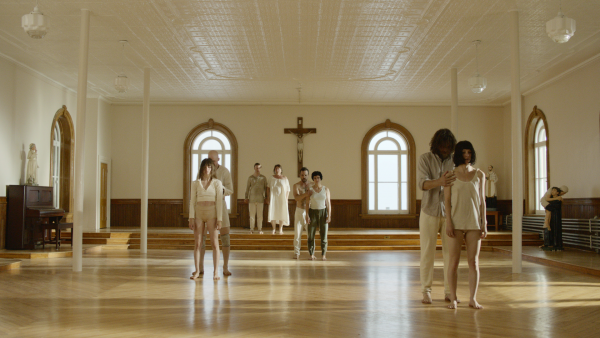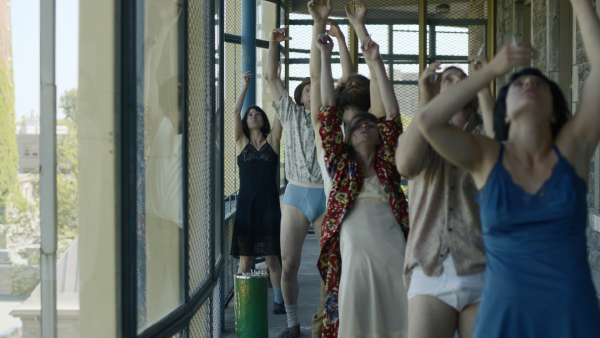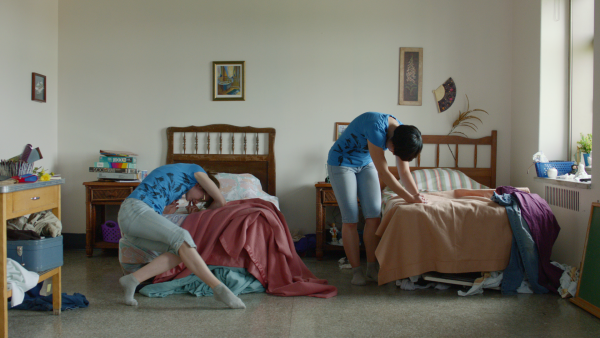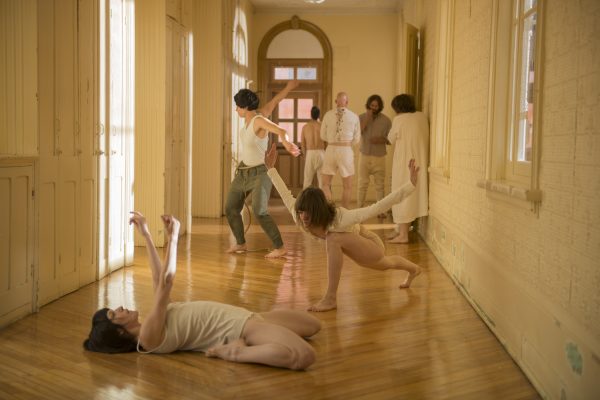 Director
Hayeur, Isabelle
As a producer, director and scriptwriter, Isabelle Hayeur has written and directed three feature-length fiction films: La bête de foire (1993), Luce-Guilbault Prize at the Rendez-vous du cinéma québécois, Les Siamoises (1999), presented at the prestigious London Institute of Contemporary arts and Le Golem de Montréal (2004), opening film at the Festival du film pour enfants de Montréal. As an adaptor of stage plays for the cinema, she has also developed over the years a body of work, producing about twenty films and videos with choreographers such as Ginette Laurin, Marie Chouinard and Susan Marshall in New York. In 2005, Richard Desjardins asked her to direct the video for his show Kanasuta which was nominated for Best musical DVD by l'ADISQ. She is a founding member and president of Réalisatrices Équitables.
Filmography
A Short History Of Madness (2014 / 27 min)
Droits d'auteur(e) (2006 / 16 min)
Kanasuta (2005 / 112 min)
Le Golem de Montréal (2004 / 90 min)
Les entartistes (2000 / 60 min)
Les siamoises (1999 / 79 min)
La chambre blanche (1993 / 12 min)
La bête de foire (1993 / 68 min)
Narrow room (1989 / 7 min)
Londeleau (1988 / 11 min)