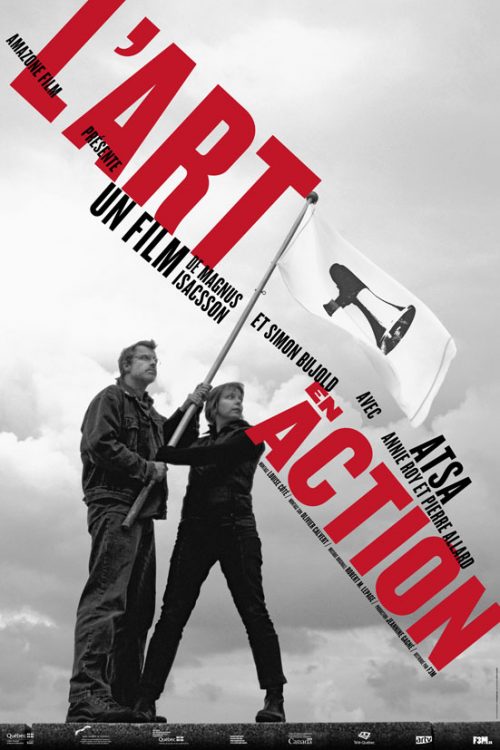 ART IN ACTION
68 min, documentary, Quebec, Canada, 2009
Directed by
Isacsson, Magnus
Produced by
Jeannine Gagné and Amazone Film
Language
French
Short description
Art in Action is a portrait of two provocative Montreal artists, Annie Roy and Pierre Allard whose urban installations sound the alarm concerning important social issues.
Buy the DVD
Press reviews
An inspring portrait of the kind of people the world needs more of.
The Mirror
Film details
Synopsis
An abundance of art, love, and idealism: that's what fuels Annie Roy and Pierre Allard, the founders of l'Action Terroriste Socialement Acceptable. For the past decade, ATSA has made performance an act of intervention, an art that engages citizens in the struggle for a humane and civil society.
Magnus Isacsson homes his camera on the political idealism and domestic demands of the Roy-Allard partnership and finds inspiration, generosity and integrity in their exemplary life project. A powerful, moving and candid documentary that makes you believe in a better tomorrow.
Credits
Script, Direction, Sound Recording : Magnus Isacsson
Photography, Co-irection : Simon Bujold
Editing : Louise Côté
Sound Editing : Olivier Calvert
Music : Robert M Lepage
Production : Jeannine Gagné and Amazone Film
Financial Partners
Télé-Québec
ARTV
Fonds canadien du film et de la vidéo indépendants
SODEC
Fonds canadien de télévision
Crédit d'impôt Canada
Director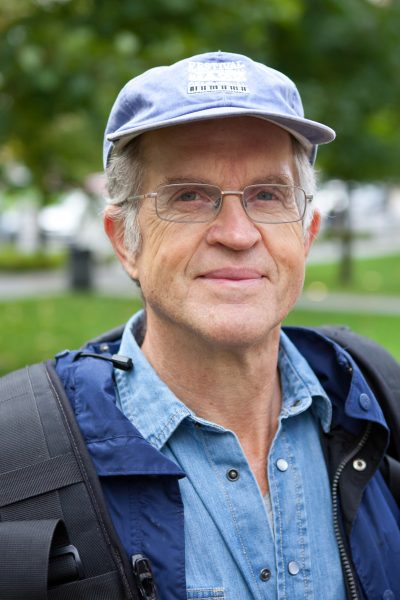 Isacsson, Magnus
Telling dramatic stories which bring crucial social and political issues to the attention of the public – that was Magnus Isacsson's objective as a documentary filmmaker. In the last fifteen years of his life he had specialized in feature length "process films", following conflictual situations over long periods of time. Power (1996), told the five-year story of how the Cree indians defeated Hydro-Québec's Great Whale megaproject. The film received the award for best documentary at the Paris International Environmental Film Festival in 1997 and the Grand Prize of the Lausanne festival in 1999. The Choir Boys (1999) about Montreal's choir of homeless men, was nominated for several major Canadian awards and received the Golden Conch at the Mumbai International festival in 2000. The feature length View from the Summit, (2002) is a multi-faceted view of the politics of protest, which the Globe and Mail called "remarkable…riveting". Isacsson also codirected Pressure Point (1999), a film on the same theme that received the Quebec Film Critics award for Best Documentary in 2000. Maxime, McDuff and McDo (2002), his second film on attempts to unionize McDonald's restaurants, was nominated for three Gémeaux awards.
Isacsson received the 2004 Prix Lumières from the Quebec directors' association, ( ARRQ) which made him a member Emeritus in 2012.
Non Exhaustive Filmography
Ma vie réelle (2012 / 90 min)
l'Art en Action (2009 / 68 min)
The Battle of Rabaska (2008 / 78 min)
Waiting for Martin (2004 / 70 min)
Maxime, McDuff & McDo (2002 / 52 min)
View From the Summit (2002 / 75 min)
The Choir Boys (1999 / 76 min)
Power (1996 / 80 min)
The Big Upheaval (1996 / 52 min)
The Emperor's New Clothes (1995 / 69 min)
Uranium (1991 / 48 min)