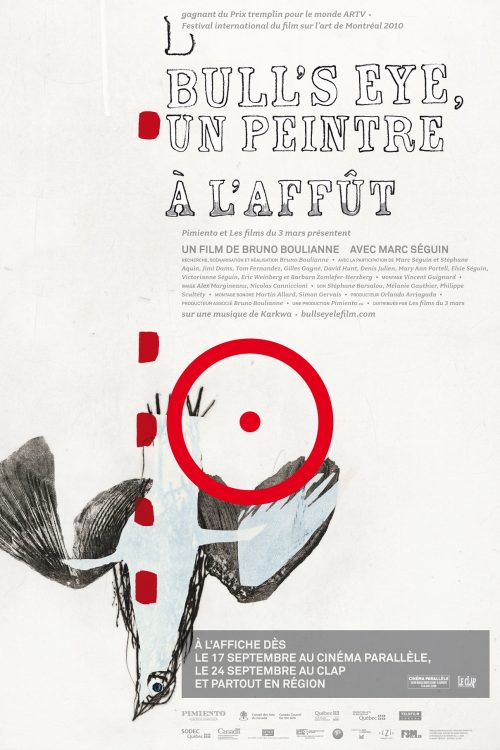 BULL'S EYE: A PAINTER ON THE WATCH
76 min, Documentary, Quebec, Canada, 2010
Directed by
Bruno Boulianne
Produced by
Pimiento
Language
French/English
Short description
A boreal forest, in the fall. A man wearing a face mask is on the watch. Camouflaged in the bush, he holds his gun at the ready. Is he a serial killer or just a trophy hunter!? He's neither. He's an artist waiting for an animal and that elusive moment when the image for a work will come to him.
Buy the DVD
Press reviews
The silences, presence and remarkable coherence of a man who is at peace with his life. Inspirational.
Voir Montréal
Bull's Eye hits the mark! Thanks to this film, modern art is suddenly accessible.
Radio-Canada
Film details
Synopsis
At age 40, Marc Séguin is considered one of the most talented painters of his generation. His works have been shown around the world and collectors impatiently await each new exhibition. A student of Molinari and an admirer of Riopelle, Séguin paints complex, genre-crossing pieces that never cease to amaze. This hunter of images and game is keenly attuned to his natural surroundings, drawing inspiration for his unique creations.
Bull's Eye: A Painter on the Watch offers a rare glimpse into the world of an artist who paints like he hunts: with patience, faith and desire. The desire to live and create, working in Montreal and New York, and spending time in the vast wilderness in order to reach his target: a breathtaking image on canvas.
Credits
Script, Research and Direction : Bruno Boulianne
With the participation of : Marc Séguin et Stéphane Aquin, Jimi Dams, Tom Fernandez, Gilles Gagné, David Hunt, Denis Julien, Mary Ann Portell, Elsie Séguin, Victorianne Séguin, Eric charest-Weinberg, Barbara Zomlefer-Herzberg
Direction of Photography : Alex Margineanu, Nicolas Canniccioni
Sound : Stéphane Barsalou, Mélanie Gauthier, Philippe Scultéty
Editing : Vincent Guignard
Music : Karkwa
Sound Editing : Martin Allard, Simon Gervais
Producer : Orlando Arriagada
Associate Producer : Bruno Boulianne
Production : Pimiento
Financial Partners
SODEC
Conseil des arts du Canada
Téléfilm Canada
Conseil des Arts de Montréal
ONF
SCAM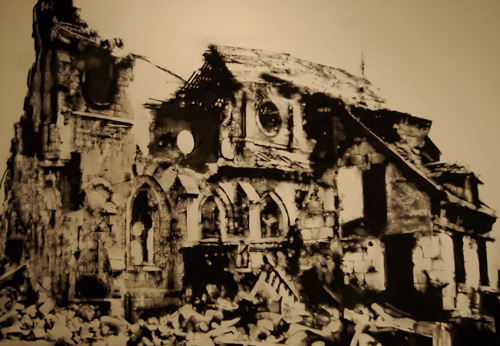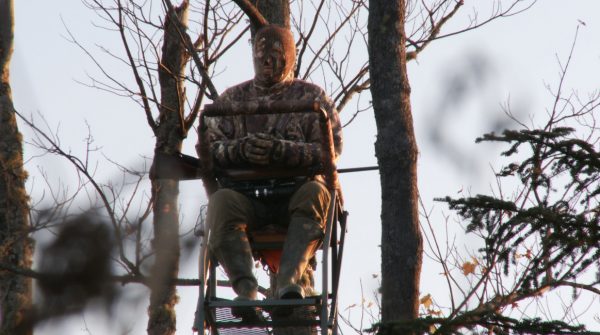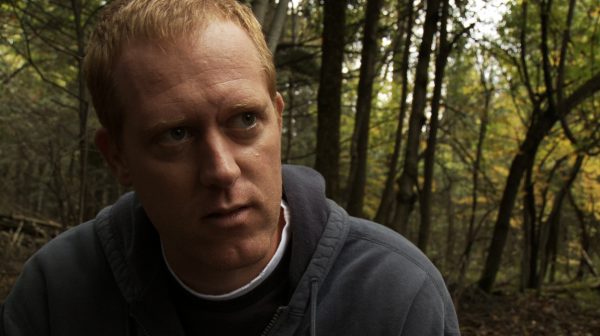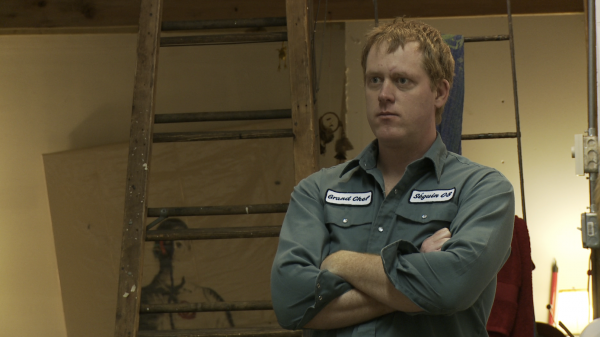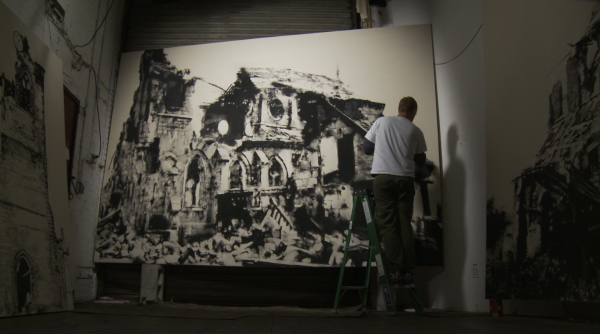 Direction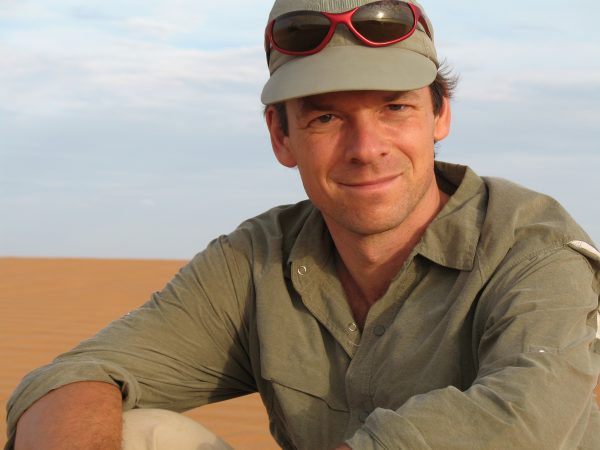 Bruno Boulianne
With a background in architecture and communications, Bruno Boulianne first got noticed on the Radio-Canada television program La Course Europe-Asie in 1990–91. He went on to direct the documentary Un cirque sur le fleuve, which won the Best Hope Award at the 1994 Rendez- vous du cinéma québécois. Fascinated by the relationship between people and their environment, he has made some fifteen films that have garnered several awards, including the Grand Prize and People's Choice Award for Le Compteur d'oiseaux (2004) at the 2005 Festival de films de Portneuf sur l'environnement, and the NFB Award for Best Canadian Film at the 23rd Festival Vues d'Afrique in Montreal for Le prix de l'exode (2006), shot in Mali. His feature-length documentary Bull's Eye: A Painter on the Watch (2010), won the ARTV Springboard to the World Award, at the 28th International Festival of Films on Art in Montreal. Filmography L'homme de l'Isle (2017 / 71 min) Claude n'est pas mort (2017 / 45 min) Monsieur le maire (2014 / 52 min) Un rêve américain (2014 / 91 min) Ne touchez pas à mon église! (2012 / 63 min) Le chant de la brousse (2011 / 46 min) Bull's Eye: A Painter on the Watch (2010 / 75 min) 50 tonnes d'épinettes (2007 / 46 min) Pompiers boréals (2006 / 44 min) Le Compteur d'oiseaux (2004 / 52 min) Des hommes de passage (2002 / 43 min) Aviature (2000 / 48 min) Un cirque sur le fleuve (1993 / 26 min)