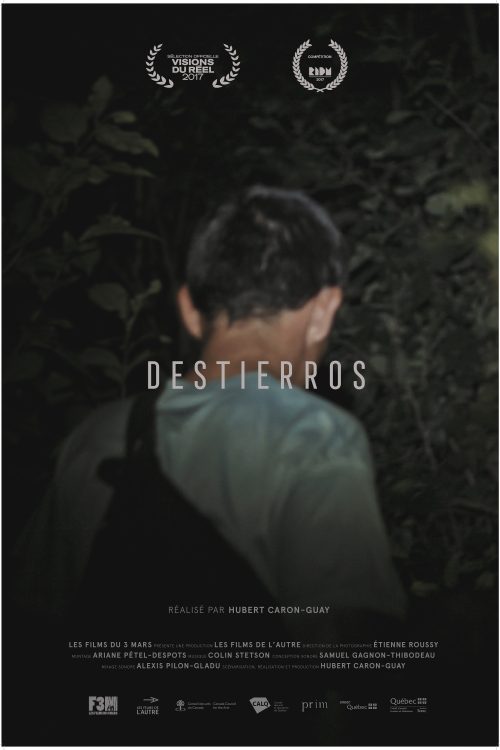 DESTIERROS
92 min, Documentary, Quebec, Canada, 2017
Directed by
Caron-Guay, Hubert
Produced by
Les Films de l'Autre
Language
Spanish/English
Short description
Destierros is an immersive experience that puts on screen the confusion and vertigo of the migration route leading to the United-States.
Buy the DVD
Film details
Synopsis
Border mechanisms that act on migrants are many.  Moving from shelter to shelter and hopping on trains, they head up north across Mexico to reach the United States and Canada. During the U.S election, migrants are more than aware that it could be their last chance to cross the border.
Following their trajectory, Destierros draws a path of reclusion. A path where time remains the longest road between two places.
Credits
Direction : Hubert Caron-Guay
Photography : Etienne Roussy
Editing : Ariane Pétel-Despots
Sound Design : Samuel Gagnon-Thibodeau
Sound Recording : Hubert Caron-Guay
Sound Mixing : Alexis Pilon-Gladu
Music : Colin Stetson
Production : Hubert Caron-Guay (Les Films de L'Autre)
Financial Partners
Conseil des arts et des lettres du Québec
Conseil des arts du Canada
PRIM
Sodec Québec
Les Films de L'Autre
Les Films du 3 Mars
Director
Caron-Guay, Hubert
Hubert Caron-Guay is a producer, director, screenwriter and visual artist. He participated in the foundation of the Épopée group in 2010 where he coordinated and directed the most of his art project until 2015. His practice as a visual artist is at the intersection of cinema and installation art.
Filmography
Destierros (2017 / 90 min)
Fractures (installation) (2014 / 287 min)
Rupture (2014 / 150 min)
Insurgence (2013 / 137 minutes)
L'État du monde (2012 / 84 minutes)
L'État des lieux (2012 / 205 min)
L'État du moment (2011 / 95 minutes)